Dental Unit Chair Manufacturer in China
The dental unit Chair market is becoming more and more popular. With the improvement of people's economic level, more and more attention is paid to the health of teeth. Dental clinics are becoming ubiquitous.
Whether you are a large dental equipment dealer or you are creating your own new dental clinic. Satcon Medical can provide you with a complete dental equipment solution.
Product Description
This dental chair is designed by a famous American designer, with good line proportion and elegant appearance.
It combines the convenience of the dentist's operation with the comfort of the patient. Sensitive and stable touchpad control, Ensure the safety of dental surgery.
When handpiece works, the tooth chair will automatically enter the locking state to protect the safety of the patient.
This dental chair has a maximum safe load of up to 180 kg.
Our products have passed ISO 1348 and CE certification, which can meet the bidding needs of most governments and hospitals.
Product Technical Parameters
| | |
| --- | --- |
| Model | ST-D3603 Dental Unit Chair |
| Voltage | 220±10 V /110±10 V, 50±1 Hz/ 60±1 Hz |
| Air pressure | 550 Kpa-1000 Kpa |
| Water pressure | 0.2 MPa-0.4 MPa |
| Power Source | Electricity |
| Dimension | 1450 x 1100 x 1120 mm |
| Gross weight | 260 kgs |
The easy pull-back swing arm, detachable stainless stell tray, tensile handpiece tubing
Flexible 3-axis rotation, white light without shadows, detachable and sterilizable handle covers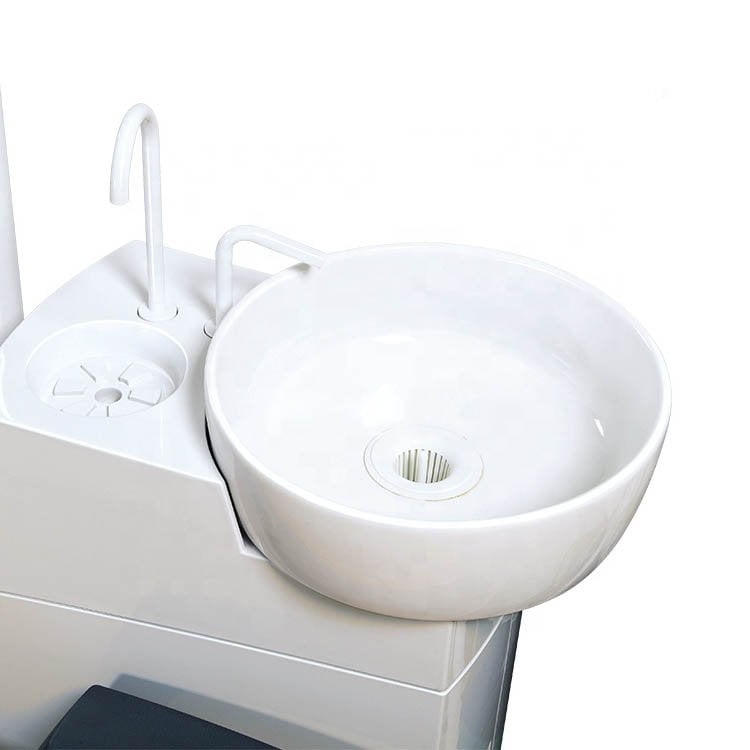 Detachable ceramic cuspidor.
Synchronized chair and soft upholstery with adjustable super low seat position 370 mm, makes a convenient way for the aged, child and handicapped
Multifunctional 6 in 1 switch
Tissue box and cup holder with patent design, easy to take the tissue and large tray for placing the cup
| | |
| --- | --- |
| High speed handpiece tube | 2 pcs |
| Low speed handpiece tube | 1 pc |
| Three way syringe(cold/hot) | 2 pcs |
| Ceramic rotatable spittoon | 1 pc |
| Dental chair auto spitton flush & cup filler control constant temperature system | 1 pc |
| Strong & weak suction system | 1 pc |
| Assistant holder | 1 pc |
| Purified water supply system | 1 pc |
| X-ray film viewer | 1 pc |
| LED sensor light | 1 pc |
| Doctor stool | 1 pc |
| PU cushion | 1 set |
| Multifunctional foot pedal | 1 pc |
Dental oil free air compressor
Dental handpiece set
Built-in dental curing light
Built-in ultrasonic scaler
Oral camera
Different type LED sensor light
Instrument tray
Double armrest